Turn Kitchens into All-Day Facilities
Tap into the industry-leading virtual brand portfolio with the "Restaurant Group of the Future" – QSR Magazine
The virtual portfolio is at your demand—think, the Netflix of the restaurant industry—with C3's celebrity
brand platform with Michelin-Star chefs, entertainment superstars, and creators.
Utilize your kitchen space:
+ Turn kitchens into all-day facilities: Drive efficiencies with existing kitchen capacity + labor for increased ROI 
+ Generate incremental revenue: Up to $15,000/month/concept, with  anywhere from 1-6 concepts per kitchen
+ Decrease existing food costs: Leverage the purchasing power and supply-chain of +250 location C3 to drive down food-costs for existing brands by anywhere from 5-20%
C3 tools provided:
+ Delivery costs + preferential relationships: 3rd-party, Citizens Go app, placement with national brands
+ Access to supply chain + purchasing power: Lower existing food-costs up to 20%
+ Local Marketing + PR: Location-focused content, national/local launch PR, web/SEO, in-app marketing
"We're making it

as easy as possible

for Chowly's partners:

when you choose to cook C3 brand food, we'll take care of the rest.

" 
Sam Nazarian
CEO OF C3 BRANDS
DELIVERY-ONLY BRANDS WITH PRE-EXISTING BRAND RECOGNITION CAN DRIVE INCREMENTAL MONTHLY SALES
Total Potential Incremental Sales:
$30,000 – $40,000
Enable customers to order directly from your restaurant using

 

Google search, Google maps,

 

or

 

Google assistant. 
Google has partnered with Chowly to develop Direct Order—an integration that connects a restaurant's POS system with their Google page.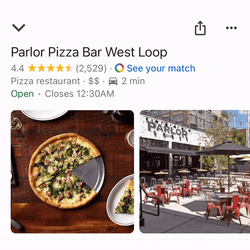 THERE ARE

 

8.6 BILLION 'FOOD NEAR ME'

 SEARCHES EACH MONTH THAT RESTAURANTS CAN TURN INTO SALES.